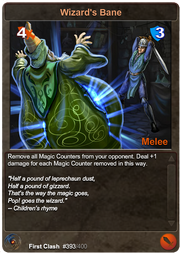 Wizard's Bane (First Clash, Legacy Card, #393) is an epic Melee weapon card with 4 attack and 3 defense.
Card Effect
Remove all Magic Counters from your opponent. Deal +1 damage for each Magic Counter removed in this way.
Card Description
"Half a pound of leprechaun dust,
Half a pound of gizzard.
That's the way the magic goes,
Pop! goes the wizard."
- Children's rhyme
How to Obtain
Card Analysis
Edit
Note: Card analysis is done by players and not official content of the game. Players may regard this as opinion.

Wizard's Bane is a useful card against spell using enemies, particularly foes such as the Royal Battle mages in Zone 3 or indeed any enemy with a spellcatcher talisman. Although similar to magekiller and harder to obtain, Wizard's Bane scores over it by removing the opponent's magic counters.
Ad blocker interference detected!
Wikia is a free-to-use site that makes money from advertising. We have a modified experience for viewers using ad blockers

Wikia is not accessible if you've made further modifications. Remove the custom ad blocker rule(s) and the page will load as expected.