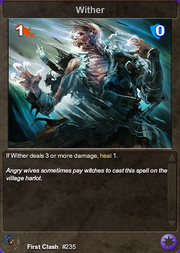 Wither (First Clash, Legacy Card, #235) is a common Dark magic card with 1 attack and 0 defense.
Card Effect
If Wither deals 3 or more damage, Heal 1.
Card Description
Angry wives sometimes pay witches to cast this spell on the village harlot.
How to Obtain
Other Versions
Edit
Ad blocker interference detected!
Wikia is a free-to-use site that makes money from advertising. We have a modified experience for viewers using ad blockers

Wikia is not accessible if you've made further modifications. Remove the custom ad blocker rule(s) and the page will load as expected.