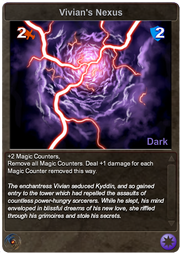 Vivian's Nexus is an enemy-only Dark magic card with 2 attack and 2 defense.
Card Effect
+2 Magic Counters.
Remove all Magic Counters. Deal +1 damage for each Magic Counter removed this way.
Card Description
The enchantress Vivian seduced Kyddin, and so gained entry to the tower which had repelled the assaults of countless power-hungry sorcerers. While he slept, his mind enveloped in blissful dreams of his new love, she riffled through his grimoires and stole his secrets.
Ad blocker interference detected!
Wikia is a free-to-use site that makes money from advertising. We have a modified experience for viewers using ad blockers

Wikia is not accessible if you've made further modifications. Remove the custom ad blocker rule(s) and the page will load as expected.