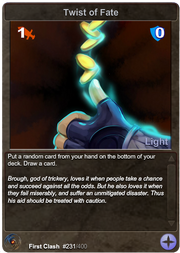 Twist of Fate (First Clash, Legacy Card, #231) is a common Light magic card with 1 attack and 0 defense.
Card Effect
Put a random card from your hand on the bottom of your deck. Draw a card.
Card Description
Brough, god of trickery, loves it when people take a chance and succeed against all the odds. But he also loves it when they fail miserably, and suffer an unmitigated disaster. Thus his aid should be treated with caution.
How to Obtain
Other Versions
Edit
Ad blocker interference detected!
Wikia is a free-to-use site that makes money from advertising. We have a modified experience for viewers using ad blockers

Wikia is not accessible if you've made further modifications. Remove the custom ad blocker rule(s) and the page will load as expected.