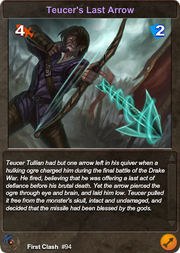 Teucer's Last Arrow (First Clash, Legacy Card, #94) is a rare Ranged weapon card with 4 attack and 2 defense.
Card Description
Teucer Tullian had but one arrow left in his quiver when a hulking ogre charged him during the final battle of the Drake War. He fired, believing that he was offering a last act of defiance before his brutal death. Yet the arrow pierced ogre through eye and brain, and laid him low. Teucer pulled it free from the monster's skull, intact and undamaged, and decided that the missile had been blessed by the gods.
How to Obtain
Used in Crafting
Edit
Other Versions
Edit
Ad blocker interference detected!
Wikia is a free-to-use site that makes money from advertising. We have a modified experience for viewers using ad blockers

Wikia is not accessible if you've made further modifications. Remove the custom ad blocker rule(s) and the page will load as expected.