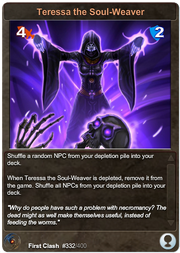 Teressa the Soul-Weaver (First Clash, Legacy Card, #332) is an epic Elf NPC card with 4 attack and 2 defense.
Card Effect
Shuffle a random NPC from your depletion pile into your deck.
When Teressa the Soul-Weaver is depleted, banish it. Shuffle all NPCs from your depletion pile into your deck.
Card Description
"Why do people have such a problem with necromancy? The dead might as well make themselves useful, instead of feeding the worms."
How to Obtain
Used in Crafting
Edit
Other Versions
Edit
Ad blocker interference detected!
Wikia is a free-to-use site that makes money from advertising. We have a modified experience for viewers using ad blockers

Wikia is not accessible if you've made further modifications. Remove the custom ad blocker rule(s) and the page will load as expected.