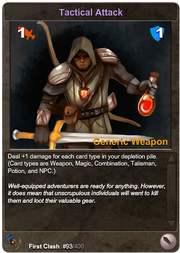 Tactical Attack (First Clash, Legacy Card, #93) is a rare Generic Weapon card with 1 attack and 1 defense.
Card Effect
Deal +1 damage for each card type in your depletion pile.
Card Description
Well-equipped adventurers are ready for anything. However, it does mean that unscrupulous individuals will want to kill them and loot their valuable gear.
How to Obtain
Ad blocker interference detected!
Wikia is a free-to-use site that makes money from advertising. We have a modified experience for viewers using ad blockers

Wikia is not accessible if you've made further modifications. Remove the custom ad blocker rule(s) and the page will load as expected.