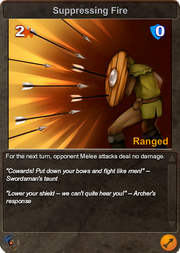 Suppressing Fire is an enemy-only Ranged weapon card with 2 attack and 0 defense.
Card Effect
For the next turn, opponent Melee attacks deal no damage.
Card Description
"Cowards! Put down your bows and fight like me!" - Swordsman taunt
"Lower your shield - we can't quite hear you!" - Archer's response
Ad blocker interference detected!
Wikia is a free-to-use site that makes money from advertising. We have a modified experience for viewers using ad blockers

Wikia is not accessible if you've made further modifications. Remove the custom ad blocker rule(s) and the page will load as expected.