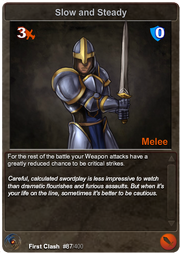 Slow and Steady (First Clash, Legacy Card, #87) is a common Melee weapon card with 3 attack and 0 defense.
Card Effect
For the rest of the battle, your Weapon attacks have a -50% chance to be critical strikes.
Card Description
Careful, calculated swordplay is less impressive to watch than dramatic flourishes and furious assaults. But when it's your life on the line, sometimes it's better to be cautious.
How to Obtain
Ad blocker interference detected!
Wikia is a free-to-use site that makes money from advertising. We have a modified experience for viewers using ad blockers

Wikia is not accessible if you've made further modifications. Remove the custom ad blocker rule(s) and the page will load as expected.