Ad blocker interference detected!
Wikia is a free-to-use site that makes money from advertising. We have a modified experience for viewers using ad blockers

Wikia is not accessible if you've made further modifications. Remove the custom ad blocker rule(s) and the page will load as expected.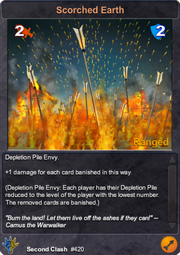 Scorched Earth (Second Clash, Legacy Card, #420) is an epic Ranged weapon card with 2 attack and 2 defense.
Card Effect
Depletion Pile Envy.
+1 damage for each card banished in this way.
(Depletion Pile Envy: Each player's Depletion Pile is reduced to the level of the player with the lowest number. The removed cards are banished.)
Card Description
"Burn the land! Let them live off the ashes if they can!" -- Carnus the Warwalker
How to Obtain
Card Analysis
Edit
Note: Card analysis is done by players and not official content of the game. Players may regard this as opinion.

The Scorched Earth is generally considered as a finishing card in brawls due to the vast amount of cards being banished. Players should notice all players will have a chance to have cards banished, and it might be fatal for cycle decks (and certainly fatal for thosed already out of cards to draw) Rewlf2 08:49, March 13, 2012 (UTC)