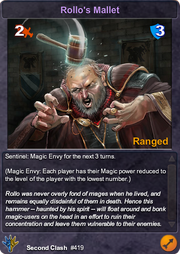 Rollo's Mallet (Second Clash, Legacy Card, #419) is a rare Ranged weapon card with 2 attack and 3 defense.
Card Effect
Sentinel: Magic Envy for the next 3 turns.
(Magic Envy: Each player has their Magic power reduced to the level of the player with the lowest number.)
Card Description
Rollo was never overly fond of mages when he lived, and remains equally disdainful of them in death. Hence this hammer - haunted by his spirit - will float around and bonk magic-users on the head in an effort to ruin their concentration and leave them vulnerable to their enemies.
How to Obtain
Ad blocker interference detected!
Wikia is a free-to-use site that makes money from advertising. We have a modified experience for viewers using ad blockers

Wikia is not accessible if you've made further modifications. Remove the custom ad blocker rule(s) and the page will load as expected.