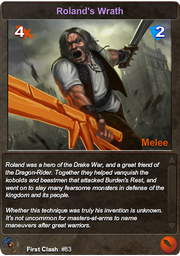 Roland's Wrath (First Clash, Legacy Card, #83) is a rare Melee weapon card with 4 attack and 2 defense.
Card Description
Roland was a hero of the Drake War, and a great friend of the Dragon-Rider. Together they helped vanquish the kobolds and beastmen that attacked Burden's Rest, and went on to slay many fearsome monsters in defense of the kingdom and its people.
Whether this technique was truly his invention is unknown. It's not uncommon for master-at-arms to name maneuvers after great warriors.
How to Obtain
Other Versions
Edit
Ad blocker interference detected!
Wikia is a free-to-use site that makes money from advertising. We have a modified experience for viewers using ad blockers

Wikia is not accessible if you've made further modifications. Remove the custom ad blocker rule(s) and the page will load as expected.