Queen Lena (First Clash, Legacy Card, #252) is an epic Undead NPC card with 3 attack and 2 defense.
Card Effect
Assassin: Attacks you play for the next 2 turns will be critical strikes.
Sentinel: Gain +3 absorption for the next 2 turns.
Pyrelord: Queen Lena's damage is multiplied by your number of Magic Counters.
Druid: Play all abilities.
Card Description
"You didn't need to break the door of my crypt down. I can walk through walls. But now that you're here you might as well spit out what you want. Yes, I'm Lena -- once queen of the Kalava tribe. You could have read that on my door, before you smashed it. Ah... So my people have need of my leadership skills once more? Then why are we wasting our time here? But after this is over you're paying to repair my crypt."
How to Obtain
Other Versions
Edit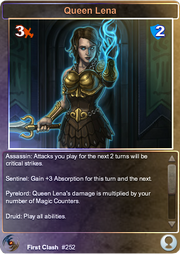 Ad blocker interference detected!
Wikia is a free-to-use site that makes money from advertising. We have a modified experience for viewers using ad blockers

Wikia is not accessible if you've made further modifications. Remove the custom ad blocker rule(s) and the page will load as expected.