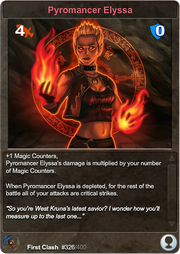 Pyromancer Elyssa (First Clash, Legacy Card, #326) is a legendary Elf NPC card with 4 attack and 0 defense.
Card Effect
+1 Magic Counters.
Pyromancer Elyssa's damage is multiplied by your number of Magic Counters.
When Pyromancer Elyssa is depleted, for the rest of the battle all of your attacks are critical strikes.
Card Description
"So you're West Kruna's latest savior? I wonder how you'll measure up to the last one..."
How to Obtain
Other Versions
Edit
Ad blocker interference detected!
Wikia is a free-to-use site that makes money from advertising. We have a modified experience for viewers using ad blockers

Wikia is not accessible if you've made further modifications. Remove the custom ad blocker rule(s) and the page will load as expected.