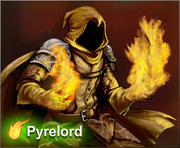 Pyrelords favor the magical arts, and choose to rely on their arcane powers when the battle rages. They especially love to manipulate flame, harnessing that destructive element for both attack and defense.
Equipment
Edit
Supported Cards
Edit
Ad blocker interference detected!
Wikia is a free-to-use site that makes money from advertising. We have a modified experience for viewers using ad blockers

Wikia is not accessible if you've made further modifications. Remove the custom ad blocker rule(s) and the page will load as expected.