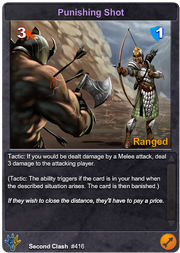 Punishing Shot (Second Clash, Legacy Card, #416) is a rare Ranged weapon card with 3 attack and 1 defense.
Card Effect
Tactic: If you would be dealt damage by a Melee attack, deal 3 damage to the attacking player.
(Tactic: The ability triggers if the card is in your hand when the described situation arises. The card is then banished.)
Card Description
If they wish to close the distance, they'll have to pay a price.
How to Obtain
Other Versions
Edit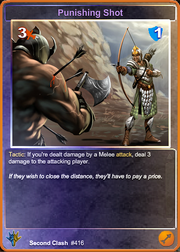 Ad blocker interference detected!
Wikia is a free-to-use site that makes money from advertising. We have a modified experience for viewers using ad blockers

Wikia is not accessible if you've made further modifications. Remove the custom ad blocker rule(s) and the page will load as expected.