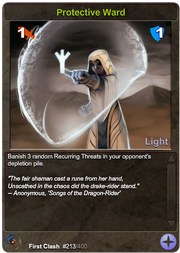 Protective Ward (First Clash, Legacy Card, #213) is an uncommon Light magic card with 1 attack and 1 defense.
Card Effect
Banish 3 random Recurring Threats in your opponent's depletion pile.
Card Description
"The fair shaman cast a rune from her hand,
Unscathed in the chaos did the drake-rider stand."
-- Anonymous, "Songs of the Dragon-Rider"
How to Obtain
Used in Crafting
Edit
Ad blocker interference detected!
Wikia is a free-to-use site that makes money from advertising. We have a modified experience for viewers using ad blockers

Wikia is not accessible if you've made further modifications. Remove the custom ad blocker rule(s) and the page will load as expected.