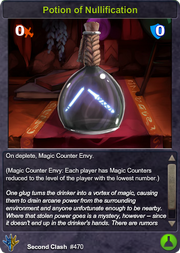 Potion of Nullification (Second Clash, Legacy Card, #470) is an uncommon Potion card with 0 attack and 0 defense.
Card Effect
On Deplete,Magic Counter Envy .
(Magic Counter Envy: each player has Magic Counters reduced to the level of the player with the lowest number.)
Card Description
One glug turns the drinker into a vortex of magic, causing them to drain arcane power from the surrounding environment and anyone unfortunate enough to be nearby. Where that stolen power goes is a mystery, however - since it doesn't end up in the drinker's hands. There are rumors that a cunning wizard invented the potion, and that all the vanished energy flows to him.
How to Obtain
Other Versions
Edit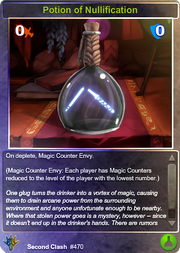 Ad blocker interference detected!
Wikia is a free-to-use site that makes money from advertising. We have a modified experience for viewers using ad blockers

Wikia is not accessible if you've made further modifications. Remove the custom ad blocker rule(s) and the page will load as expected.