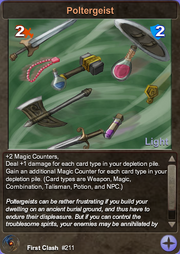 Poltergeist (First Clash, Legacy Card, #211) is an epic Light magic card with 2 attack and 2 defense.
Card Effect
+2 Magic Counters
Deal +1 damage for each card type in your depletion pile.
Gain an additional Magic Counter for each card type in your depletion pile.
Card Description
Poltergeists can be rather frustrating if you build your dwelling on an ancient burial ground, and thus have to endure their displeasure. But if you can control the troublesome spirits, your enemies may be annihilated by a whirling tempest of swords, shields, rocks, and any other nearby object.
How to Obtain
Other Verisons
Edit
Ad blocker interference detected!
Wikia is a free-to-use site that makes money from advertising. We have a modified experience for viewers using ad blockers

Wikia is not accessible if you've made further modifications. Remove the custom ad blocker rule(s) and the page will load as expected.