Poison Cloud (First Clash, Legacy Card, #210) is a common Dark magic card with 1 attack and 2 defense.
Card Description
Poraxia, a wicked hag, was cast out of her village for the malicious tricks she wrought with her witchcraft. She vowed to make the villagers pay with their lives. That night she crept to the edge of the settlement, and conjured up a cloud of virulent poison. But fortune was against Poraxia. The wind changed, and the poison slew only her.
How to Obtain
Used in Crafting
Edit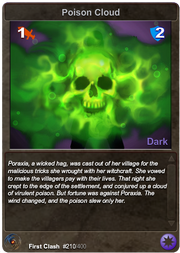 Ad blocker interference detected!
Wikia is a free-to-use site that makes money from advertising. We have a modified experience for viewers using ad blockers

Wikia is not accessible if you've made further modifications. Remove the custom ad blocker rule(s) and the page will load as expected.