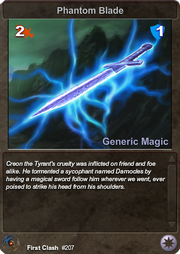 Phantom Blade (First Clash, Legacy Card, #207) is a common Generic Magic card with 2 attack and 1 defense.
Card Description
Creon the Tyrant's cruelty was inflicted on friend on foe alike. He tormented a sycophant named Damocles by having a magical sword follow him whenever he went, ever poised to strike his head from his shoulders.
How to Obtain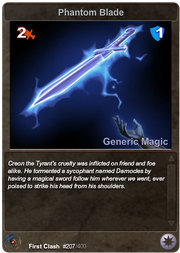 Ad blocker interference detected!
Wikia is a free-to-use site that makes money from advertising. We have a modified experience for viewers using ad blockers

Wikia is not accessible if you've made further modifications. Remove the custom ad blocker rule(s) and the page will load as expected.