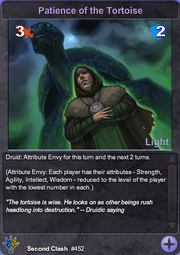 Patience of the Tortoise (Second Clash, Legacy Card, #452) is a rare Light magic card with 3 attack and 2 defense.
Card Effect
Druid: Attribute Envy for the next 3 turns.
(Attribute Envy: Each player has their attributes - Strength, Agility, Intellect, Wisdom - reduced to the level of the player with the lowest number in each.)
Card Description
"The tortiose is wise. He looks on as other beings rush headlong into destruction." -- Druidic saying
How to Obtain
Ad blocker interference detected!
Wikia is a free-to-use site that makes money from advertising. We have a modified experience for viewers using ad blockers

Wikia is not accessible if you've made further modifications. Remove the custom ad blocker rule(s) and the page will load as expected.