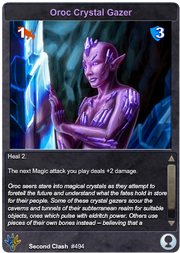 Oroc Crystal Gazer (Second Clash, Legacy Card, #494) is a rare Oroc NPC card with 1 attack and 3 defense.
Card Effect
Heal 2.
The next Magic attack you play deals +2 damage.
Card Description
Oroc seers stare into magical crystals as they attempt to foretell the future and understand what the fates hold in store for their people. Some of these crystal gazers scour the caverns and tunnels of their subterranean realm for suitable objects, ones which pulse with eldritch power. Others use pieces of their own bones instead - believing that a stronger, more personal connection between seer and crystal enhances the accuracy of their visions.
How to Obtain
Ad blocker interference detected!
Wikia is a free-to-use site that makes money from advertising. We have a modified experience for viewers using ad blockers

Wikia is not accessible if you've made further modifications. Remove the custom ad blocker rule(s) and the page will load as expected.