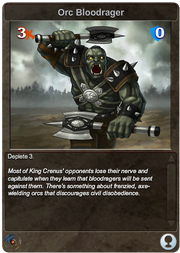 Orc Bloodrager is an enemy-only Orc NPC card with 3 attack and 0 defense.
Card Effect
Deplete 3.
Card Description
Most of King Crenus' opponents lose their nerve and capitulate when they learn that bloodragers will be sent against them. There's something about frenzied, axe-wielding orcs that discourages civil disobedience.
Ad blocker interference detected!
Wikia is a free-to-use site that makes money from advertising. We have a modified experience for viewers using ad blockers

Wikia is not accessible if you've made further modifications. Remove the custom ad blocker rule(s) and the page will load as expected.