Night Blade (Promo, Legacy Card, #22) is a rare Human NPC card with 4 attack and 2 defense.
Card Effect
When Night Blade is depleted, shuffle a copy of Talisman of Agility into your deck.
Card Description
Night Blades have been plying the sinister trade of the assassin for centuries, and those in West Kruna important enough to potentially attract their attention tremble at the very mention of their name. Some of their targets have actually been known to commit suicide once they learn that the Night Blades have marked them for death - accepting the inevitable and preferring to die on their own terms.
The assassins called a halt to their mercenary murdering at the start of the Drake War. During that conflict they instead fought alongside the kingdom's other defenders, and some even served in the Dragon-Rider's army. However, once the drakes were defeated they returned to business as usual.
Since he came to the throne, King Crenus has employed harsh measures to root out and eradicate the Night Blades - declaring that he will finally put an end to their lawlessness.
Other Versions
Edit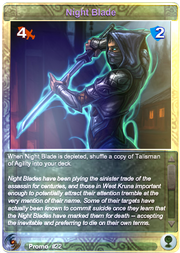 Ad blocker interference detected!
Wikia is a free-to-use site that makes money from advertising. We have a modified experience for viewers using ad blockers

Wikia is not accessible if you've made further modifications. Remove the custom ad blocker rule(s) and the page will load as expected.