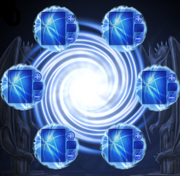 The Nexus was added in the
March 6th, 2012
update. It allows users to combine up to 6 different items (cards, equipment, or crafting material) into a new item.
Every time you attempt to "Invoke the Nexus" you add 5% Arcane interference. Once you reach 100% you will be unable to use the Nexus. Arcane interference will dissipate over 24 hours (right after the interference is raised from 0%, not when reaching 100%) or you may choose to pay 10 DC to dissipate it immediately. Failure to discover a recipe upon invoking the Nexus still generates Arcane Interference, however your components are not lost in the process.
Successfully discovering a recipe upon invoking the Nexus creates the item, adds it to the appropriate tab and consumes your components in the process. Once you know a recipe, you may craft it any time you have the necessary components from the appropriate tab. Crafting from a tab does not Invoke the Nexus, thus it does not add to your Arcane Interference. Players are warned that using Nexus to create an item, which has been discovered before, will add Arcane interference.
In order to assist in the finding of additional recipes, the developers announced that they will provide clues every weekday. This continued until the May 11th clue. The developers announced that they would be taking a hiatus from clues to make more recipes and make them more in depth. The July 10th, 2012 update marked the end of hiatus for Nexus clues. On September 1st, 2012, the clues were put on hiatus until new features are implemented.
Recipe List
Edit
Grouping clues that are linked together but with an unknown card
| Crafting Materials | Crafted Item | Clue Date |
| --- | --- | --- |
| | | 4/16/12 |
Equipment
Edit
Frequently Asked Questions
Edit
Transmuting Randoms
Edit
Transmuting Random Commons/Uncommons/Rares yields a random result. Thus, one person's transmutation of 12 Talisman of Arcane Mights will result in an Acid Ball, whereas someone else might get Greater Guarded Blow. Additionally, it is not necessary to use 12 of the same card. As long as the total equals the appropriate amount of cards (12/24) for the recipe it will work. The major drawback is player must accumulate enough number of the same kind of cards to perform this, especially due the the 6-slot limit of the Nexus.
The Recipe Doesn't Work
Edit
All of the recipes on this page have been tested and verified. If a given recipe doesn't work for you, please try the following:
Reload the game.
Use the +/- buttons to adjust the quantity of a given ingredient, rather than attempting to type in the number.
Ad blocker interference detected!
Wikia is a free-to-use site that makes money from advertising. We have a modified experience for viewers using ad blockers

Wikia is not accessible if you've made further modifications. Remove the custom ad blocker rule(s) and the page will load as expected.