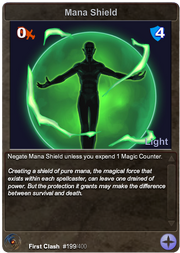 Mana Shield (First Clash, Legacy Card, #199) is a common Light magic card with 0 attack and 4 defense.
Card Effect
Negate Mana Shield unless you expend 1 Magic Counter.
Card Description
Creating a shield of pure mana, the magical force that exists within each spellcaster, can leave one drained of power. But the protection it grants may make the difference between survival and death.
How to Obtain
Ad blocker interference detected!
Wikia is a free-to-use site that makes money from advertising. We have a modified experience for viewers using ad blockers

Wikia is not accessible if you've made further modifications. Remove the custom ad blocker rule(s) and the page will load as expected.