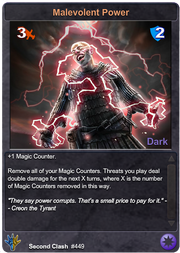 Malevolent Power (Second Clash, Legacy Card, #449) is an epic Dark magic card with 3 attack and 2 defense.
Card Effect
Remove all of your Magic Counters. Threats you play deal double damage for the next X turns, where X is the number of Magic Counters removed in this way.
Card Description
"They say power corrupts. That's a small price to pay for it." - Creon the Tyrant
How to Obtain
Used in Crafting
Edit
Other Versions
Edit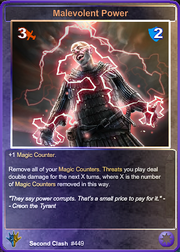 Card Analysis
Edit
Note: Card analysis is done by players and not official content of the game. Players may regard this as opinion.


Upon testing, Malevolent Power does not stack with itself. [Turns, however, may be extended depending on MC counters removed.] Malevolent Power does not stack with Flower of Chivalry. Malevolent Power does stack with My Round and also with Arthur's Bane.
Ad blocker interference detected!
Wikia is a free-to-use site that makes money from advertising. We have a modified experience for viewers using ad blockers

Wikia is not accessible if you've made further modifications. Remove the custom ad blocker rule(s) and the page will load as expected.