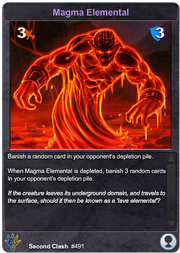 Magma Elemental (Second Clash, Legacy Card, #491) is a rare Construct NPC card with 3 attack and 3 defense.
Card Effect
Banish a card in your opponent's depletion pile.
When Magma Elemental is depleted, banish 3 cards in your opponent's depletion pile.
Card Description
If the creature leaves its undeground domain, and travels to the surface, should it then be known as a 'lava elemental'?
How to Obtain
Card Analysis
Edit
Note: Card analysis is done by players and not official content of the game. Players may regard this as opinion.

Magma Elemental is an acceptable killer against depletion fields, but is dependent on the pile. It performs much better when depleted, and is useful in cycle decks to black out enemy decks after deal damage. Inside cyclic it does not perform well.
Rewlf2 03:50, February 17, 2012 (UTC)
Ad blocker interference detected!
Wikia is a free-to-use site that makes money from advertising. We have a modified experience for viewers using ad blockers

Wikia is not accessible if you've made further modifications. Remove the custom ad blocker rule(s) and the page will load as expected.