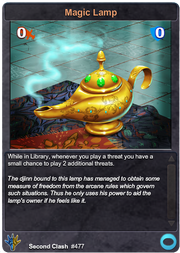 Magic Lamp (Second Clash, Legacy Card, #477) is an epic Talisman card with 0 attack and 0 defense.
Card Effect
While in Library, whenever you play a threat you have a 15% chance to play 2 additional threats.
Card Description
The djinn bound to this lamp has managed to obtain some measure of freedom from the arcane rules which govern such situations. Thus he only uses his power to aid the lamp's owner if he feels like it.
How to Obtain
Ad blocker interference detected!
Wikia is a free-to-use site that makes money from advertising. We have a modified experience for viewers using ad blockers

Wikia is not accessible if you've made further modifications. Remove the custom ad blocker rule(s) and the page will load as expected.