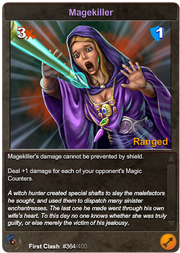 Magekiller (First Clash, Legacy Card, #364) is a rare Ranged weapon card with 3 attack and 1 defense.
Card Effect
Magekiller's damage is piercing.
Deal +1 damage for each of your opponent's Magic Counters.
Card Description
A witch hunter created special shafts to slay the malefactors he sought, and used them to dispatch many sinister enchantresses. The last one he made went through his own wife's heart. To this day no one knows whether she was truly guilty, or else merely the victim of his jealousy.
How to Obtain
Ad blocker interference detected!
Wikia is a free-to-use site that makes money from advertising. We have a modified experience for viewers using ad blockers

Wikia is not accessible if you've made further modifications. Remove the custom ad blocker rule(s) and the page will load as expected.