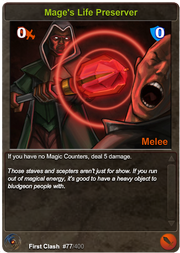 Mage's Life Preserver (First Clash, Legacy Card, #77) is an uncommon Melee weapon card with 0 attack and 0 defense.
Card Effect
If you have no Magic Counters, deal 5 damage.
Card Description
Those staves and scepters aren't just for show. If you run out of magical energy, it's good to have a heavy object to bludgeon people with.
How to Obtain
Ad blocker interference detected!
Wikia is a free-to-use site that makes money from advertising. We have a modified experience for viewers using ad blockers

Wikia is not accessible if you've made further modifications. Remove the custom ad blocker rule(s) and the page will load as expected.