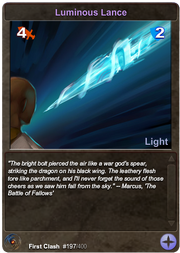 Luminous Lance (First Clash, Legacy Card, #197) is a rare Light magic card with 4 attack and 2 defense.
Card Description
"The bright bolt pierced the air like a war god's spear, striking the dragon on his black wing. The leathery flesh tore like parchment, and I'll never forget the sound of those cheers as we saw him fall from the sky." - Marcus, 'The Battle of Fallows'
How to Obtain
Other Versions
Edit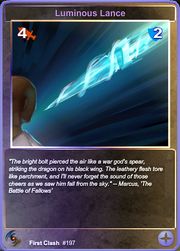 Ad blocker interference detected!
Wikia is a free-to-use site that makes money from advertising. We have a modified experience for viewers using ad blockers

Wikia is not accessible if you've made further modifications. Remove the custom ad blocker rule(s) and the page will load as expected.