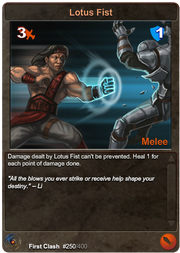 Lotus Fist (First Clash, Legacy Card, #250) is an epic Melee weapon card with 3 attack and 1 defense.
Card Effect
Damage dealt by Lotus Fist is unpreventable. Heal 1 for each point of damage done.
Card Description
"All the blows you ever strike or receive help shape your destiny." - Li
How to Obtain
Card Analysis
Edit
Note: Card analysis is done by players and not official content of the game. Players may regard this as opinion.

Lotus Fist is a high-level healing melee card, better than cards like Protect the Weak and Calculated Strike. The combination of anti-defense and healing makes it a good choice for restoration in melee-build decks, and is often partnered with Weapon-improving cards. Rewlf2 07:53, March 13, 2012 (UTC)
Other Versions
Edit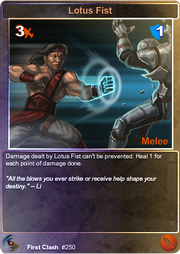 Ad blocker interference detected!
Wikia is a free-to-use site that makes money from advertising. We have a modified experience for viewers using ad blockers

Wikia is not accessible if you've made further modifications. Remove the custom ad blocker rule(s) and the page will load as expected.