Liquid Rage (First Clash, Legacy Card, #313) is a rare Potion card with 0 attack and 0 defense.
Card Effect
On Deplete, your next Melee attack deals +5 damage.
Card Description
This potent elixir blends the rage brew used by orc bloodragers with ingredients taken from the most savage monsters. Its effect is fleeting, but for that brief moment the drinker becomes a ferocious engine of destruction.
How to Obtain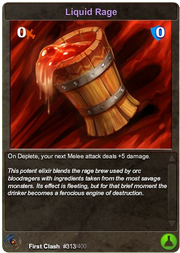 Ad blocker interference detected!
Wikia is a free-to-use site that makes money from advertising. We have a modified experience for viewers using ad blockers

Wikia is not accessible if you've made further modifications. Remove the custom ad blocker rule(s) and the page will load as expected.