Lightning Storm (First Clash, Legacy Card, #196) is a common Light magic card with 0 attack and 0 defense.
Card Effect
Up to 3 Magic Counters are removed from you. Deal +1 damage for each Magic Counter removed in this way.
Card Description
"Twice I've approached towards Darius' tower, and both times a sudden lightning storm has forced me to ride back to town. I'm beginning to grow suspicious." - Sniggings the Tax-Collector.
How to Obtain
Used in Crafting
Edit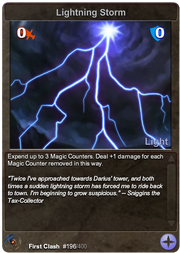 Ad blocker interference detected!
Wikia is a free-to-use site that makes money from advertising. We have a modified experience for viewers using ad blockers

Wikia is not accessible if you've made further modifications. Remove the custom ad blocker rule(s) and the page will load as expected.