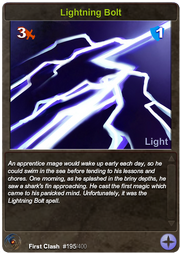 Lightning Bolt (First Clash, Legacy Card, #195) is an uncommon Light magic card with 3 attack and 1 defense.
Card Description
An apprentice mage would wake up early each day, so he could swim in the sea before tending to his lessons and chores. One morning, as he splashed in the briny depths, he saw a shark's fin approaching. He cast the first magic which came to his panicked mind. Unfortunately, it was the Lightning Bolt spell.
How to Obtain
Ad blocker interference detected!
Wikia is a free-to-use site that makes money from advertising. We have a modified experience for viewers using ad blockers

Wikia is not accessible if you've made further modifications. Remove the custom ad blocker rule(s) and the page will load as expected.