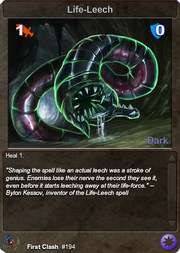 Life-Leech (First Clash, Legacy Card, #194) is a common Dark magic card with 1 attack and 0 defense.
Card Effect
Heal 1.
Card Description
"Shaping the spell like an actual leech was a stroke of genius. Enemies lose their nerve the second they see it, even before it starts leeching away at their life-force." - Bylon Kessov, inventor of the Life-Leech spell
How to Obtain
Ad blocker interference detected!
Wikia is a free-to-use site that makes money from advertising. We have a modified experience for viewers using ad blockers

Wikia is not accessible if you've made further modifications. Remove the custom ad blocker rule(s) and the page will load as expected.