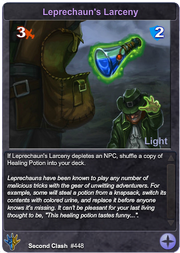 Leprechaun's Larceny (Second Clash, Legacy Card, #448) is a rare Light magic card with 3 attack and 2 defense.
Card Effect
If Leprechaun's Larceny depletes an NPC, shuffle a copy of Healing Potion into your deck.
Card Description
Leprechauns have been known to play any number of malicious tricks with the gear of unwitting adventurers. For example, some will steal a potion from a knapsack, switch its contents with colored urine, and replace it before anyone knows it's missing. It can't be pleasant for your last living thought to be, "The healing potion tastes funny...".
How to Obtain
Other Versions
Edit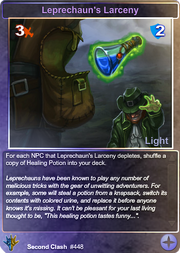 Ad blocker interference detected!
Wikia is a free-to-use site that makes money from advertising. We have a modified experience for viewers using ad blockers

Wikia is not accessible if you've made further modifications. Remove the custom ad blocker rule(s) and the page will load as expected.