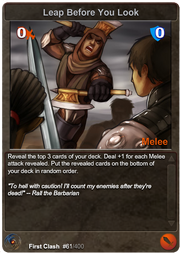 Leap Before You Look (First Clash, Legacy Card, #61) is a common Melee weapon card with 0 attack and 0 defense.
Card Effect
Reveal the top 3 cards of your deck. Deal +1 for each Melee attack revealed. Put the revealed cards on the bottom of your deck in random order.
Card Description
"To hell with caution! I'll count my enemies after they're dead!" - Rall the Barbarian
How to Obtain
Ad blocker interference detected!
Wikia is a free-to-use site that makes money from advertising. We have a modified experience for viewers using ad blockers

Wikia is not accessible if you've made further modifications. Remove the custom ad blocker rule(s) and the page will load as expected.