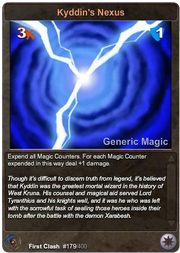 Kyddin's Nexus (First Clash, Legacy Card, #179) is an epic Generic Magic card with 3 attack and 1 defense.
Card Effect
Expend all Magic Counters. For each Magic Counter expended in this way deal +1 damage.
Card Description
Though it's difficult to discern truth from legend, it's believed that Kyddin was the greatest mortal wizard in the history of West Kruna. His counsel and magical aid served Lord Tyranthius and his knights well, and it was he who was left with the sorrowful task of sealing those heroes inside tomb after the battle with the demon Xarabesh.
How to Obtain
Other Versions
Edit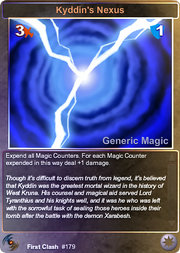 Ad blocker interference detected!
Wikia is a free-to-use site that makes money from advertising. We have a modified experience for viewers using ad blockers

Wikia is not accessible if you've made further modifications. Remove the custom ad blocker rule(s) and the page will load as expected.