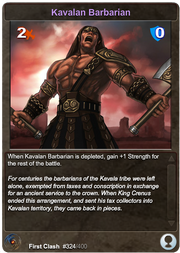 Kavalan Barbarian (First Clash, Legacy Card, #324) is a rare Human NPC card with 2 attack and 0 defense.
Card Effect
When Kavalan Barbarian is depleted, gain +1 Strength for the rest of the battle.
Card Description
For centuries the barbarians of the Kavala tribe were left alone, exempted from taxes and conscription in exchange for an ancient service to the crown. When King Crenus ended this arrangment, and sent his tax collectors into Kavalan territory, they came back in pieces.
How to Obtain
Ad blocker interference detected!
Wikia is a free-to-use site that makes money from advertising. We have a modified experience for viewers using ad blockers

Wikia is not accessible if you've made further modifications. Remove the custom ad blocker rule(s) and the page will load as expected.