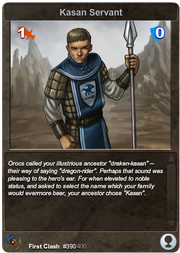 Kasan Servant (First Clash, Legacy Card, #390) is a common Human NPC card with 1 attack and 0 defense.
Card Description
Orocs called your illustrious ancestor "draken-kasan" - their way of saying "dragon-rider". Perhaps that sound was pleasing to the hero's ear. For when elevated to noble status, and asked to select the name which your family would evermore bear, your ancestor chose "Kasan".
How to Obtain
Used in Crafting
Edit
Ad blocker interference detected!
Wikia is a free-to-use site that makes money from advertising. We have a modified experience for viewers using ad blockers

Wikia is not accessible if you've made further modifications. Remove the custom ad blocker rule(s) and the page will load as expected.