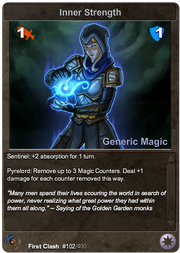 Inner Strength (First Clash, Legacy Card, #102) is a common Generic Magic card with 1 attack and 1 defense.
Card Effect
Sentinel : +2 absorption for 1 turn.
Pyrelord : Remove up to 3 Magic Counters. Deal +1 damage for each counter removed this way.
Card Description
"Many men spend their lives scouring the world in search of power, never realizing what great power they had within them all along." - Saying of the Golden Garden monks
How to Obtain
Used in Crafting
Edit
Ad blocker interference detected!
Wikia is a free-to-use site that makes money from advertising. We have a modified experience for viewers using ad blockers

Wikia is not accessible if you've made further modifications. Remove the custom ad blocker rule(s) and the page will load as expected.