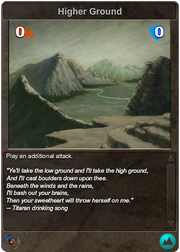 Higher Ground is an enemy-only Location card with 0 attack and 0 defense.
Card Effect
You play an additional attack.
Card Description
"Ye'll take the low ground and I'll take the high ground,
And I'll cast boulders down upon thee.
Beneath the winds and the rains,
I'll bash out your brains,
Then your sweetheart will throw herself on me."
- Titaran drinking song
Other Versions
Edit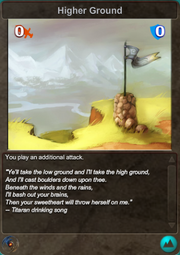 Ad blocker interference detected!
Wikia is a free-to-use site that makes money from advertising. We have a modified experience for viewers using ad blockers

Wikia is not accessible if you've made further modifications. Remove the custom ad blocker rule(s) and the page will load as expected.