Greater Knife Toss (First Clash, Legacy Card, #46) is an uncommon Ranged weapon card with 4 attack and 0 defense.
Card Description
All thirteen throwing knives pierced his body at the same moment, and at least five of them inflicted wounds, which would have proven fatal on their own. Thus it seems likely that the number of murder weapons was intended to convey a message." - Notes at the assassination of Aurelius Bloodwyn
How to Obtain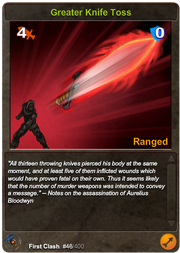 Ad blocker interference detected!
Wikia is a free-to-use site that makes money from advertising. We have a modified experience for viewers using ad blockers

Wikia is not accessible if you've made further modifications. Remove the custom ad blocker rule(s) and the page will load as expected.