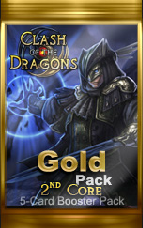 The Gold Pack costs 30
Dragon Coins
or 5000
gold
(There won't be a sale for these)
Gold Packs contain Uncommon cards, along with the occasional Rare and Common.
Before the permanent change Gold Pack cost was 30 Dragon Coins or 10000 gold (and when it was on sale, 18 Dragon Coins or 6000 gold)
Description
Edit
All that glitters may not be gold. But this is.
Crafting Materials
Edit
Gold packs may contain the following crafting items:
For details of approximate drop percentages, please refer to this forum thread.
Ad blocker interference detected!
Wikia is a free-to-use site that makes money from advertising. We have a modified experience for viewers using ad blockers

Wikia is not accessible if you've made further modifications. Remove the custom ad blocker rule(s) and the page will load as expected.