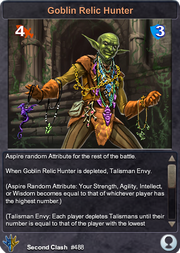 Goblin Relic Hunter (Second Clash, Legacy Card, #488) is an epic Goblin NPC card with 4 attack and 3 defense.
Card Effect
Aspire random Attribute for the rest of the battle.
When Goblin Relic Hunter is depleted, Talisman Envy.
(Aspire: Your Strength, Agility, Intellect, or Wisdom becomes equal to that of whichever player has the highest number.)
(Talisman Envy: Each player depletes Talismans until their number is equal to that of the player with the lowest number).
Card Description
Some people collect books, or weapons, or amusing figurines. As for goblin relic hunters, they favor ancient jewelry and trinkets - and will go to any lengths to obtain them, even if it means violating lonely tombs and doing battle with their guardians.
Most relic hunters are too attached to their collections to store them out of their sight. Instead they walk around festooned with their beloved treasures, which can cause interesting results if several of the relics happen to possess magical properties.
How to Obtain
Ad blocker interference detected!
Wikia is a free-to-use site that makes money from advertising. We have a modified experience for viewers using ad blockers

Wikia is not accessible if you've made further modifications. Remove the custom ad blocker rule(s) and the page will load as expected.