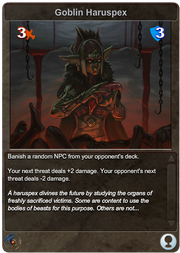 Goblin Haruspex is an enemy-only Goblin NPC card with 3 attack and 3 defense.
Card Effect
Banish a random NPC from your opponent's deck.
Your next threat deals +2 damage. Your opponent's next threat deals -2 damage.
Card Description
A haruspex divines the future by studying the organs of freshly sacrificed victims. Some are content to use the bodies of beasts for this purpose. Others are not...
Ad blocker interference detected!
Wikia is a free-to-use site that makes money from advertising. We have a modified experience for viewers using ad blockers

Wikia is not accessible if you've made further modifications. Remove the custom ad blocker rule(s) and the page will load as expected.