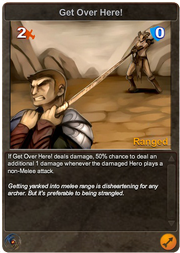 Get Over Here! is an enemy-only Ranged weapon card with 2 attack and 0 defense.
Card Effect
If Get Over Here! deals damage, 50% chance to deal an additional 1 damage whenever the damaged opponent plays a non-Melee attack.
Card Description
Getting yanked into melee range is disheartening for any archer. But it's preferable to being strangled.
Ad blocker interference detected!
Wikia is a free-to-use site that makes money from advertising. We have a modified experience for viewers using ad blockers

Wikia is not accessible if you've made further modifications. Remove the custom ad blocker rule(s) and the page will load as expected.